Blog / DIY Bird Feeder
---
---
---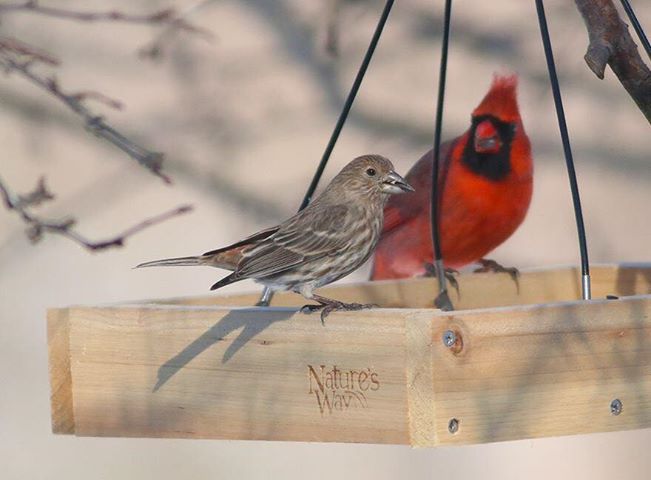 On February 23, 1994, John Porter proclaimed February "National Bird Feeding Month" in the reading of a resolution into the Congressional Record. For the past 74 years The National Bird Feeding Society has promoted the month long celebration with multiple activities to engage and educate the public on the importance of wild bird feeding.
Whether you are an avid birding aficionado or a first time feeder, providing feed for the birds in your area can be a fun and rewarding experience. Here are some easy bird-feeding DIY to try at home this month to celebrate!
1) As Easy as Toast!
If you have bread and peanut butter in your household, this is a quick and simple way to get started feeding the birds. This can also double as a great snow-day activity for kids. Add a Valentine's Day twist on this DIY by using a heart-shaped cookie cutter, or by simply cutting the bread into the shape of a heart before toasting! For step-by-step instructions, visit Hands On As We Grow.
2) Pine Cone Feeder
Another super simple DIY bird feeder. Get some fresh air and take a hike outdoors to scout out some pine cones for this project - you can even do some bird watching as you go! For step-by-step instructions, visit Mom in Madison.
3) Time for Tea
For those of you who love crafting and also appreciate a fabulous vintage look, this DIY is perfect for you! Whether it's old china you have lying around, or a trip to the thrift store is required, this is an adorable "shabby-chic" way to celebrate National Bird Feeding Month. For step-by-step instructions, visit A Bushel And A Peck.
4) Reduce, Reuse, Recycle
Regardless of whether you live in an area where the bubbly beverage is called "soda" or "pop", this craft is a unique way to use those plastic bottles and feed the birds. This project is great for National Bird Feeding Month, and can also be recycled for Earth Day (You see what we did there?). For step-by-step instructions, visit Here Comes the Sun.
5) Retail Therapy
Not feeling very crafty? You're in luck! For the entire month of February, Nature's Way Bird Products is taking 15% off all website orders on seed and suet feeders! Just apply promo code FORTHEBIRDS15 at checkout (Code good February 1 through midnight February 29. Code good on the following product collections: Bamboo Feeders, Cedar Feeders, Tube Feeders, Squirrel Proof Feeders, Rustic Feeders).
Read more →
---
---
---